Kashmiri, Guntur, Bird's Eye, Naga and Mundu Chilli Are Most Popular in India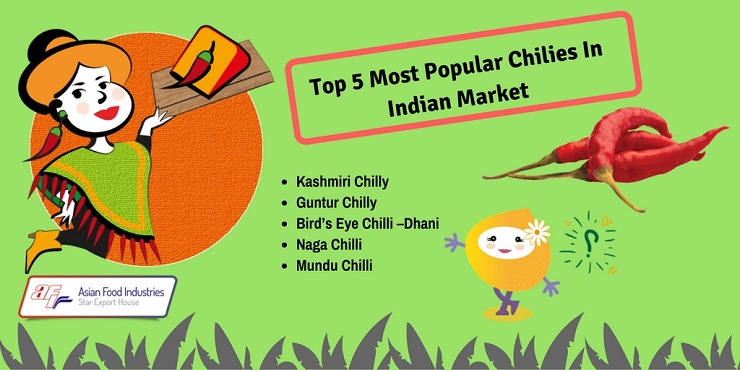 Kashmiri Chilly
Kashmiri chilly is more popular for color than its taste and they are used worldwide. They are mild in spice or hotness.
Guntur Chilly
Andhra is popular to export spices worldwide. Chilli powder exporters love to export their spices in all states of India. It is generally spicy and it should be used in small quantity only.
Bird's Eye Chilli –Dhani
This is grown in North east and good to eat with chutneys or pickles. The pickle made with this type of chilli is always good and it can be consumed in small portions only. So, make sure that it should not be taken in torrents.
Naga Chilli
This is one of the hottest chilies across worldwide and when taken into large quantity it may cause skin or eye burning. Sometimes people report the problem of stomach cramping or excessive vomiting. Few people have retired to bed as well due to side effects.
Mundu Chilli
This is small and round chilly with thin skin. The chilly has highly unique flavor that enhances overall color and taste of the dish.
TO know more on types of chilies that suits you most, you should Contact Chilli Powder Exporters right away.